About Us
Chandi Express is a Indian takeaway in Exeter. Why don't you try our Vegetable Curry or Dupiaza?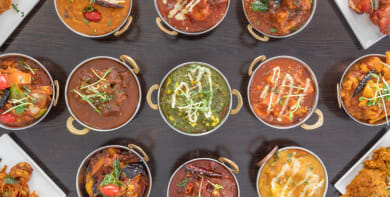 Reviews
157 reviews
Clo
"The food was so good! Such good value for money and amazing flavours. We had to wait an hour but it arrived on the time given. We will definitely order again!"
19/09/2020
Nick
"Alway excellent, best Indian in Exeter"
12/09/2020
Maria
"Lovely food, looked nice, was hot when we got it. Delicious. We all enjoyed our meals."
29/08/2020
Elize
"Amazing curry!!!"
28/08/2020
Menu
Meal For 1 Person
Onion bhaji
Chicken tikka masala
Bombay potatoes
Pilau rice
Naan bread
£14.95
Meal For 2 Persons
Onion bhaji
Chicken tikka
Chicken tikka masala
Lamb bhuna
Aloo gobi
Vegetable curry
2 Pilau rice
Naan bread
£24.95
Vegetarian Meal For 1 Person
Onion bhaji
Sabzi balti
Bombay aloo
Pilau rice
Naan bread
£12.95
Biryani Chicken
Cooked with rice, served with vegetable curry
Medium
£8.95
Biryani Lamb
Cooked with rice, served with vegetable curry
Medium
£8.95
Biryani Prawn
Cooked with rice, served with vegetable curry
Medium
£8.95
Biryani Chicken Tikka
Cooked with rice, served with vegetable curry
Medium
£12.95
Biryani Lamb Tikka
Cooked with rice, served with vegetable curry
Medium
£12.95
Biryani King Prawn
Cooked with rice, served with vegetable curry
Medium
£14.95
Biryani Vegetable
Cooked with rice, served with vegetable curry
Medium
£8.95
Nawabi Biryani
Chicken & king prawns cooked with rice served with vegetable curry
Medium
£12.95
Tandoori King Prawn Starter
King prawns cooked over charcoal
£5.95
King Prawn Butterfly
Marinated with mint & fried with breadcrumbs
£5.95
King Prawn Puree
Spiced prawns served on fried bread
£5.95
Prawn Puree
Spiced prawns served on fried bread
£3.85
Chicken Chaat Puree
Spiced chicken served on fried bread
£3.85
Garlic King Prawn
King prawns marinated in garlic & herbs, cooked in the tandoori oven
£5.95
Prawn Cocktail
Prawns in rose marie sauce
£3.70
Tikka Starter Chicken
Cooked over charcoal
£3.70
Tikka Starter Lamb
Cooked over charcoal
£3.70
Chadni Tikka Chilli Chicken
Chicken & lamb cooked over charcoal Chadni style
£3.70
Chadni Tikka Chilli Lamb
Chicken & lamb cooked over charcoal Chadni style
£3.70
Seekh Kebab Starter
Spiced minced lamb cooked on skewer
£3.70
Samosa Vegetable
Pastry stuffed with lamb OR vegetables
£3.45
Samosa Lamb
Pastry stuffed with lamb OR vegetables
£3.45
Garlic Prawn & Mushroom
Spiced with garlic & fried with mushrooms
£4.45
Tikka Tarka Chicken
Chicken OR lamb spiced with garlic & fried with onion
£4.45
Tikka Tarka Lamb
Chicken OR lamb spiced with garlic & fried with onion
£4.45
Onion Bhaji
Spicy fried onion ball
Vegetarian
£2.75
Aloo Chaat
Spicy potatoes cooked in tamarind sauce
Vegetarian
£2.95
Onion Pakora
Fried onion & lentil balls & medium spiced, herbs & deep fried
Vegetarian
£2.95
Cauliflower Pakora
Cauliflower cooked in gram flour, herbs & deep fried
Vegetarian
£2.95
Chicken Pakora Starter
Breast of chicken coated in gram flour & fried
£3.70
Satha Dansak
Mushrooms, green chillies & lentils with flavour
Hot
Vegetarian
£6.50
Vegetable Masala
Seasonal mixed vegetables in medium hot spices cooked in fresh creamy sauce with assorted ground nuts
Medium
Vegetarian
£6.50
Sabzi Jalfrezi
Assorted vegetables cooked with sliced green chillies, highly flavoured with ginger & coriander
Hot
Vegetarian
£6.50
Samber
Tropical vegetables with a thick lentil sauce a savoury curry prepared with a tamarind sauce
Medium
Vegetarian
£6.50
Avail
From Kerala, whole bhindi & sliced aubergine with yoghurt & ground nuts in a medium blend of spices & herbs
Medium
Vegetarian
£6.50
Malai Korma
Vegetables & tropical fruit in a blend of Kashmiri spices in a fresh creamy sauce
Medium
Vegetarian
£6.50
Tava Chicken
Cooked with Kashmiri spices
Hot
£9.95
Tava Lamb
Cooked with Kashmiri spices
Hot
£9.95
Tava Nawabi
Chicken, lamb & king prawns cooked with whole aromatic spices
Hot
£12.95
Tava King Prawn
Barbecued king prawns cooked with aromatic spice
Hot
£12.95
Tava Prawn
Cooked with Kashmiri spices
Hot
£8.95
Tava Sabzi
Sliced vegetables cooked with Kashmiri spices
Hot
£6.95
Vegetable Curry
Potatoes & cauliflower with mixed vegetables & herbs
£3.25
Dry Vegetable
Potatoes & cauliflower with mixed vegetables & herbs
£3.25
Bombay Potato
Spicy potatoes
£3.25
Mushroom bhaji
Mushrooms cooked with onions
£3.25
Cauliflower Bhaji
Cauliflower cooked with onions
£3.25
Aloo Palak Bhaji
Potatoes & spinach
£3.45
Tarka Daal
Lentils spiced with garlic
£3.45
Noytha Bhaji
Mixture of nine vegetables
£3.45
Vegetable Masala
Cooked in tandoori sauce
£3.45
Aloo Gobi Masala
Cooked in tandoori sauce
£3.45
Bhindi Masala
Spiced masala
£3.45
Begun Bhaji
Spiced aubergine
£3.45
Palak Ponir
Cooked with cheese
£3.45
Gobi Ponir
Cauliflower with cheese
£3.45
Onion Bhaji
Spicy fried onion ball
£2.75
Chana Bhaji
Chickpeas with onions
£3.45
Palak Bhaji
Spinach with onions
£3.25
Mattar Ponir
Crud cheese with peas
£3.45
Cucumber Raita
Cucumber in yoghurt
£1.80
Kulcha Naan
Onions & garlic
£2.50
Peshwari Naan
Nuts & sultanas
£2.50
Paratha
Flaky fried bread
£2.50
Sabzi Paratha
With vegetables
£3.00
Jalfrezi Chicken
Chicken or lamb cooked with ginger & green chillies
Hot
£7.95
Jalfrezi Lamb
Chicken or lamb cooked with ginger & green chillies
Hot
£7.95
Korai Chicken
Chicken OR lamb cooked with tomatoes & onions
Medium
£7.95
Korai Lamb
Chicken OR lamb cooked with tomatoes & onions
Medium
£7.95
Chilli Masala Chicken
Cooked with green chillies in a tangy sauce
£7.95
Chilli Masala Lamb
Cooked with green chillies in a tangy sauce
£7.95
Chaat Masala Chicken
Barbecued & cooked in a tangy sauce
Medium
£7.95
Chaat Masala Lamb
Barbecued & cooked in a tangy sauce
Medium
£7.95
King Prawn Masala
Barbecued king prawns cooked in a mild sauce
Mild
£12.95
Rajilla Chicken
Chicken OR lamb cooked with minced lamb in a spicy hot sauce
Hot
£8.25
Rajilla Lamb
Chicken OR lamb cooked with minced lamb in a spicy hot sauce
Hot
£8.25
Roshan Chicken
Cooked with mushrooms in a garlic sauce
Medium
£6.95
Roshan Lamb
Cooked with mushrooms in a garlic sauce
Medium
£6.95
Nawabi Jalfrezi
Chicken, lamb & king prawns cooked with ginger, green chillies & peppers
Hot
£12.95
Mint Gosht
Tender English lamb in a blend of ginger & aromatic spices
Medium
£6.95
Pista Korma Chicken
Chicken or lamb cooked with pistachio nuts & fresh cream
Mild
£7.95
Pista Korma Lamb
Chicken or lamb cooked with pistachio nuts & fresh cream
Mild
£7.95
Chadni Nawabi
Chicken, lamb, prawns & vegetables cooked in garlic, ginger & onions
Medium
£9.50
Zafrani Chicken
Barbecued & cooked with grounds nuts in a creamy sauce
Mild
£7.95
Zafrani Lamb
Barbecued & cooked with grounds nuts in a creamy sauce
Mild
£7.95
Pasanda Chicken
Cooked in a cream sauce
Mild
£7.95
Pasanda Lamb
Cooked in a cream sauce
Mild
£7.95
Makhani Chicken
Barbecued & cooked with ground nuts in a creamy sauce, Chadni style
Mild
£8.25
Makhani Lamb
Barbecued & cooked with ground nuts in a creamy sauce, Chadni style
Mild
£8.25
Tikka Masala Chicken
Barbecued & cooked in a mild sauce
Mild
£7.95
Tikka Masala Lamb
Barbecued & cooked in a mild sauce
Mild
£7.95
Peshwari Chicken
Cooked with coconut & almonds
Mild
£7.95
Peshwari Lamb
Cooked with coconut & almonds
Mild
£7.95
King Prawn Zafrani
Cooked with ground nuts in a cream sauce
Mild
£12.95
Sali Boti Chicken
Sliced chicken OR lamb with dried apricot
Mild
£6.95
Sali Boti Lamb
Sliced chicken OR lamb with dried apricot
Mild
£6.95
King Prawn Jalfrezi
Cooked with ginger, green chillies, onions & peppers
Hot
£12.95
Gosht 'E' Kalia Chicken
Chicken or lamb cooked with aromatic herbs & spices with chilli seeds & yoghurt
Very hot
£7.95
Gosht 'E' Kalia Lamb
Chicken or lamb cooked with aromatic herbs & spices with chilli seeds & yoghurt
Very hot
£7.95
Gosht 'E' Ada Chicken
Barbecued chicken or lamb cooked with ginger, onions & peppers
Medium
£7.95
Gosht 'E' Ada Lamb
Barbecued chicken or lamb cooked with ginger, onions & peppers
Medium
£7.95
Naga Chicken
Pieces of chicken or lamb cooked with very hot Bangladeshi naga chilli paste & special spices, highly flavoured
Very hot
£7.95
Naga Lamb
Pieces of chicken or lamb cooked with very hot Bangladeshi naga chilli paste & special spices, highly flavoured
Very hot
£7.95
Chicken Moducas
Cooked with yoghurt, almonds, coconut, cashew nuts, honey & mango
Mild
£8.25
Green Bangla Chicken
Chicken or lamb cooked with spinach & mint in a creamy sauce
Mild
£7.95
Green Bangla Lamb
Chicken or lamb cooked with spinach & mint in a creamy sauce
Mild
£7.95
Garlic Chilli Chicken
Chicken or lamb cooked with fresh garlic & chillies
Hot
£7.95
Garlic Chilli Lamb
Chicken or lamb cooked with fresh garlic & chillies
Hot
£7.95
Mixed Pilau Rice
Meat, chicken & prawn rice
£3.95
Egg Fried Rice
Egg & onions
£2.85
Lemon Rice
Fried with lemon rice
£2.50
Onion Fried Rice
Fried with onions
£2.50
Coconut Fried Rice
Fried with desiccated coconut
£2.85
Garlic Fried Rice
With onion & garlic
£2.25
Special Pilau Rice
Nuts & sultanas
£2.85
Mushroom Rice
Mushrooms & onions
£2.95
Prawn Pilau Rice
Aromatic rice with prawns
£3.95
Pilau Rice
Cooked with aromatic spices
£2.25
Chicken Tandoori Main
Spring chicken marinated in delicately herbed, medium spiced, Medium spiced, saffron aromated yoghurt sauce & skewered
Medium
£7.25
Chicken Tikka Main
Selected morsels of chicken marinated in herbed yoghurt along with crushed ginger & garlic
Medium
£6.95
Boti Kebab (Lamb)
Selected cuts of lamb marinated in herbed yoghurt along with crushed ginger & garlic
Medium
£6.95
Tandoori Mix Platter
A selection of tandoori chicken, king prawns & lamb tikka with seekh kebab barbecue, served with naan
Medium
£12.95
Tandoori King Prawn Main
Popular amongst Bay of Bengal dwellers, king prawns blanched & seasoned, then marinated in a special chilli sauce
£11.85
Chadni Chicken Tikka Main
Mildly spiced, chicken marinated in apple & herb sauce & lightly barbecued
Mild
£7.25
Chadni Tikka Chilli Main Chicken
Chicken OR lamb marinated in herbs & spices, cooked in a garlic & chilli sauce
Hot
£7.25
Chadni Tikka Chilli Main Lamb
Chicken OR lamb marinated in herbs & spices, cooked in a garlic & chilli sauce
Hot
£7.25
Shashlik Chicken
A choice of chicken OR lamb marinated with yoghurt & herbs, cooked with garlic, onions & green peppers
Medium
£8.50
Shashlik Lamb
A choice of chicken OR lamb marinated with yoghurt & herbs, cooked with garlic, onions & green peppers
Medium
£8.50
Garlic King Prawn Main
King prawns marinated in garlic & herbs then barbecued over charcoal
Medium
£11.85
Curry Chicken Tikka
Medium
£6.50
Madras Chicken
Fairly hot
£6.95
Madras Chicken Tikka
Fairly hot
£6.95
Madras Lamb Tikka
Fairly hot
£6.95
Madras King Prawn
Fairly hot
£8.95
Madras Vegetable
Fairly hot
£6.95
Vindaloo Chicken
Very hot
£6.95
Vindaloo Chicken Tikka
Very hot
£6.95
Vindaloo Lamb Tikka
Very hot
£6.95
Vindaloo King Prawn
Very hot
£8.95
Vindaloo Vegetable
Very hot
£6.95
Dansak Chicken
Cooked with lentils
Hot
£6.95
Dansak Lamb
Cooked with lentils
Hot
£6.95
Dansak Prawn
Cooked with lentils
Hot
£6.95
Dansak Chicken Tikka
Cooked with lentils
Hot
£6.95
Dansak Lamb Tikka
Cooked with lentils
Hot
£6.95
Dansak King Prawn
Cooked with lentils
Hot
£8.95
Dansak Vegetable
Cooked with lentils
Hot
£6.95
Ceylon Chicken
Cooked with lentils
Hot
£6.95
Ceylon Lamb
Cooked with lentils
Hot
£6.95
Ceylon Prawn
Cooked with lentils
Hot
£6.95
Ceylon Chicken Tikka
Cooked with lentils
Hot
£6.95
Ceylon Lamb Tikka
Cooked with lentils
Hot
£6.95
Ceylon King Prawn
Cooked with lentils
Hot
£8.95
Ceylon Vegetable
Cooked with lentils
Hot
£6.95
Patia Chicken
Cooked with onions
Hot
£6.95
Patia Lamb
Cooked with onions
Hot
£6.95
Patia Prawn
Cooked with onions
Hot
£6.95
Patia Chicken Tikka
Cooked with onions
Hot
£6.95
Patia Lamb Tikka
Cooked with onions
Hot
£6.95
Patia King Prawn
Cooked with onions
Hot
£8.95
Patia Vegetable
Cooked with onions
Hot
£6.95
Korma Chicken
Creamy
Mild
£6.95
Korma Chicken Tikka
Creamy
Mild
£6.95
Korma Lamb Tikka
Creamy
Mild
£6.95
Korma King Prawn
Creamy
Mild
£8.95
Korma Vegetable
Creamy
Mild
£6.95
Kashmir Chicken
Cooked with tropical fruit
Mild
£6.95
Kashmir Lamb
Cooked with tropical fruit
Mild
£6.95
Kashmir Prawn
Cooked with tropical fruit
Mild
£6.95
Kashmir Chicken Tikka
Cooked with tropical fruit
Mild
£6.95
Kashmir Lamb Tikka
Cooked with tropical fruit
Mild
£6.95
Kashmir King Prawn
Cooked with tropical fruit
Mild
£8.95
Kashmir Vegetable
Cooked with tropical fruit
Mild
£6.95
Bhuna Chicken
Cooked with onions
Medium
£6.95
Bhuna Lamb
Cooked with onions
Medium
£6.95
Bhuna Prawn
Cooked with onions
Medium
£6.95
Bhuna Chicken Tikka
Cooked with onions
Medium
£6.95
Bhuna Lamb Tikka
Cooked with onions
Medium
£6.95
Bhuna King Prawn
Cooked with onions
Medium
£8.95
Bhuna Vegetable
Cooked with onions
Medium
£6.95
Dupiaza Chicken
Cooked with cubes of onions
Medium
£6.95
Dupiaza Lamb
Cooked with cubes of onions
Medium
£6.95
Dupiaza Prawn
Cooked with cubes of onions
Medium
£6.95
Dupiaza Chicken Tikka
Cooked with cubes of onions
Medium
£6.95
Dupiaza Lamb Tikka
Cooked with cubes of onions
Medium
£6.95
Dupiaza King Prawn
Cooked with cubes of onions
Medium
£8.95
Dupiaza Vegetable
Cooked with cubes of onions
Medium
£6.95
Rogan Chicken
Cooked with lots of tomatoes
Medium
£6.95
Rogan Lamb
Cooked with lots of tomatoes
Medium
£6.95
Rogan Prawn
Cooked with lots of tomatoes
Medium
£6.95
Rogan Chicken Tikka
Cooked with lots of tomatoes
Medium
£6.95
Rogan Lamb Tikka
Cooked with lots of tomatoes
Medium
£6.95
Rogan King Prawn
Cooked with lots of tomatoes
Medium
£8.95
Rogan Vegetable
Cooked with lots of tomatoes
Medium
£6.95
Palak Chicken
Cooked with spinach
Medium
£6.95
Palak Lamb
Cooked with spinach
Medium
£6.95
Palak Prawn
Cooked with spinach
Medium
£6.95
Palak Chicken Tikka
Cooked with spinach
Medium
£6.95
Palak Lamb Tikka
Cooked with spinach
Medium
£6.95
Palak King Prawn
Cooked with spinach
Medium
£8.95
Palak Vegetable
Cooked with spinach
Medium
£6.95
Contact Us
Find Us
352a Pinhoe Road, Exeter, EX48AQ
We deliver to
EX1, EX2, EX3, EX4, EX5