About Us
Chandi Express is a Indian takeaway in Exeter. Why don't you try our Vegetable Curry or Dupiaza?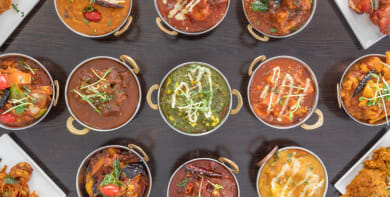 Reviews
148 reviews
Stuart
"A real Gem of a takeaway! That's three good ones in a row now, and we have varied what we ordered. Orders spread over a few months I hasten to add ;)"
05/04/2021
Stuart
"Really great quality food the quality didn't drop even on a mega busy night (Mothers Day). Would definitely order again."
14/03/2021
Laura
"Great food, there was an issue but was resolved quickly and without complaint. Excellent service. Highly recommend."
12/03/2021
Natasha
"Bit sad, no free salad & sauce this time."
11/01/2021
Menu
Meal For 1 Person
Onion bhaji
Chicken tikka masala
Bombay potatoes
Pilau rice
Naan bread
£14.95
Meal For 2 Persons
Onion bhaji
Chicken tikka
Chicken tikka masala
Lamb bhuna
Aloo gobi
Vegetable curry
2 Pilau rice
Naan bread
£24.95
Vegetarian Meal For 1 Person
Onion bhaji
Sabzi balti
Bombay aloo
Pilau rice
Naan bread
£12.95
Biryani Chicken
Cooked with rice, served with vegetable curry
Medium
£8.95
Biryani Lamb
Cooked with rice, served with vegetable curry
Medium
£8.95
Biryani Prawn
Cooked with rice, served with vegetable curry
Medium
£8.95
Biryani Chicken Tikka
Cooked with rice, served with vegetable curry
Medium
£12.95
Biryani Lamb Tikka
Cooked with rice, served with vegetable curry
Medium
£12.95
Biryani King Prawn
Cooked with rice, served with vegetable curry
Medium
£14.95
Biryani Vegetable
Cooked with rice, served with vegetable curry
Medium
£8.95
Nawabi Biryani
Chicken & king prawns cooked with rice served with vegetable curry
Medium
£12.95
Tandoori King Prawn Starter
King prawns cooked over charcoal
£5.95
King Prawn Butterfly
Marinated with mint & fried with breadcrumbs
£5.95
King Prawn Puree
Spiced prawns served on fried bread
£5.95
Prawn Puree
Spiced prawns served on fried bread
£3.85
Chicken Chaat Puree
Spiced chicken served on fried bread
£3.85
Garlic King Prawn
King prawns marinated in garlic & herbs, cooked in the tandoori oven
£5.95
Prawn Cocktail
Prawns in rose marie sauce
£3.70
Tikka Starter Chicken
Cooked over charcoal
£3.70
Tikka Starter Lamb
Cooked over charcoal
£3.70
Chadni Tikka Chilli Chicken
Chicken & lamb cooked over charcoal Chadni style
£3.70
Chadni Tikka Chilli Lamb
Chicken & lamb cooked over charcoal Chadni style
£3.70
Seekh Kebab Starter
Spiced minced lamb cooked on skewer
£3.70
Samosa Vegetable
Pastry stuffed with lamb OR vegetables
£3.45
Samosa Lamb
Pastry stuffed with lamb OR vegetables
£3.45
Garlic Prawn & Mushroom
Spiced with garlic & fried with mushrooms
£4.45
Tikka Tarka Chicken
Chicken OR lamb spiced with garlic & fried with onion
£4.45
Tikka Tarka Lamb
Chicken OR lamb spiced with garlic & fried with onion
£4.45
Onion Bhaji
Spicy fried onion ball
Vegetarian
£2.75
Aloo Chaat
Spicy potatoes cooked in tamarind sauce
Vegetarian
£2.95
Onion Pakora
Fried onion & lentil balls & medium spiced, herbs & deep fried
Vegetarian
£2.95
Cauliflower Pakora
Cauliflower cooked in gram flour, herbs & deep fried
Vegetarian
£2.95
Chicken Pakora Starter
Breast of chicken coated in gram flour & fried
£3.70
Satha Dansak
Mushrooms, green chillies & lentils with flavour
Hot
Vegetarian
£6.50
Vegetable Masala
Seasonal mixed vegetables in medium hot spices cooked in fresh creamy sauce with assorted ground nuts
Medium
Vegetarian
£6.50
Sabzi Jalfrezi
Assorted vegetables cooked with sliced green chillies, highly flavoured with ginger & coriander
Hot
Vegetarian
£6.50
Samber
Tropical vegetables with a thick lentil sauce a savoury curry prepared with a tamarind sauce
Medium
Vegetarian
£6.50
Avail
From Kerala, whole bhindi & sliced aubergine with yoghurt & ground nuts in a medium blend of spices & herbs
Medium
Vegetarian
£6.50
Malai Korma
Vegetables & tropical fruit in a blend of Kashmiri spices in a fresh creamy sauce
Medium
Vegetarian
£6.50
Tava Chicken
Cooked with Kashmiri spices
Hot
£9.95
Tava Lamb
Cooked with Kashmiri spices
Hot
£9.95
Tava Nawabi
Chicken, lamb & king prawns cooked with whole aromatic spices
Hot
£12.95
Tava King Prawn
Barbecued king prawns cooked with aromatic spice
Hot
£12.95
Tava Prawn
Cooked with Kashmiri spices
Hot
£8.95
Tava Sabzi
Sliced vegetables cooked with Kashmiri spices
Hot
£6.95
Vegetable Curry
Potatoes & cauliflower with mixed vegetables & herbs
£3.25
Dry Vegetable
Potatoes & cauliflower with mixed vegetables & herbs
£3.25
Bombay Potato
Spicy potatoes
£3.25
Mushroom bhaji
Mushrooms cooked with onions
£3.25
Cauliflower Bhaji
Cauliflower cooked with onions
£3.25
Aloo Palak Bhaji
Potatoes & spinach
£3.45
Tarka Daal
Lentils spiced with garlic
£3.45
Noytha Bhaji
Mixture of nine vegetables
£3.45
Vegetable Masala
Cooked in tandoori sauce
£3.45
Aloo Gobi Masala
Cooked in tandoori sauce
£3.45
Bhindi Masala
Spiced masala
£3.45
Begun Bhaji
Spiced aubergine
£3.45
Palak Ponir
Cooked with cheese
£3.45
Gobi Ponir
Cauliflower with cheese
£3.45
Onion Bhaji
Spicy fried onion ball
£2.75
Chana Bhaji
Chickpeas with onions
£3.45
Palak Bhaji
Spinach with onions
£3.25
Mattar Ponir
Crud cheese with peas
£3.45
Cucumber Raita
Cucumber in yoghurt
£1.80
Kulcha Naan
Onions & garlic
£2.50
Peshwari Naan
Nuts & sultanas
£2.50
Paratha
Flaky fried bread
£2.50
Sabzi Paratha
With vegetables
£3.00
Jalfrezi Chicken
Chicken or lamb cooked with ginger & green chillies
Hot
£7.95
Jalfrezi Lamb
Chicken or lamb cooked with ginger & green chillies
Hot
£7.95
Korai Chicken
Chicken OR lamb cooked with tomatoes & onions
Medium
£7.95
Korai Lamb
Chicken OR lamb cooked with tomatoes & onions
Medium
£7.95
Chilli Masala Chicken
Cooked with green chillies in a tangy sauce
£7.95
Chilli Masala Lamb
Cooked with green chillies in a tangy sauce
£7.95
Chaat Masala Chicken
Barbecued & cooked in a tangy sauce
Medium
£7.95
Chaat Masala Lamb
Barbecued & cooked in a tangy sauce
Medium
£7.95
King Prawn Masala
Barbecued king prawns cooked in a mild sauce
Mild
£12.95
Rajilla Chicken
Chicken OR lamb cooked with minced lamb in a spicy hot sauce
Hot
£8.25
Rajilla Lamb
Chicken OR lamb cooked with minced lamb in a spicy hot sauce
Hot
£8.25
Roshan Chicken
Cooked with mushrooms in a garlic sauce
Medium
£6.95
Roshan Lamb
Cooked with mushrooms in a garlic sauce
Medium
£6.95
Nawabi Jalfrezi
Chicken, lamb & king prawns cooked with ginger, green chillies & peppers
Hot
£12.95
Mint Gosht
Tender English lamb in a blend of ginger & aromatic spices
Medium
£6.95
Pista Korma Chicken
Chicken or lamb cooked with pistachio nuts & fresh cream
Mild
£7.95
Pista Korma Lamb
Chicken or lamb cooked with pistachio nuts & fresh cream
Mild
£7.95
Chadni Nawabi
Chicken, lamb, prawns & vegetables cooked in garlic, ginger & onions
Medium
£9.50
Zafrani Chicken
Barbecued & cooked with grounds nuts in a creamy sauce
Mild
£7.95
Zafrani Lamb
Barbecued & cooked with grounds nuts in a creamy sauce
Mild
£7.95
Pasanda Chicken
Cooked in a cream sauce
Mild
£7.95
Pasanda Lamb
Cooked in a cream sauce
Mild
£7.95
Makhani Chicken
Barbecued & cooked with ground nuts in a creamy sauce, Chadni style
Mild
£8.25
Makhani Lamb
Barbecued & cooked with ground nuts in a creamy sauce, Chadni style
Mild
£8.25
Tikka Masala Chicken
Barbecued & cooked in a mild sauce
Mild
£7.95
Tikka Masala Lamb
Barbecued & cooked in a mild sauce
Mild
£7.95
Peshwari Chicken
Cooked with coconut & almonds
Mild
£7.95
Peshwari Lamb
Cooked with coconut & almonds
Mild
£7.95
King Prawn Zafrani
Cooked with ground nuts in a cream sauce
Mild
£12.95
Sali Boti Chicken
Sliced chicken OR lamb with dried apricot
Mild
£6.95
Sali Boti Lamb
Sliced chicken OR lamb with dried apricot
Mild
£6.95
King Prawn Jalfrezi
Cooked with ginger, green chillies, onions & peppers
Hot
£12.95
Gosht 'E' Kalia Chicken
Chicken or lamb cooked with aromatic herbs & spices with chilli seeds & yoghurt
Very hot
£7.95
Gosht 'E' Kalia Lamb
Chicken or lamb cooked with aromatic herbs & spices with chilli seeds & yoghurt
Very hot
£7.95
Gosht 'E' Ada Chicken
Barbecued chicken or lamb cooked with ginger, onions & peppers
Medium
£7.95
Gosht 'E' Ada Lamb
Barbecued chicken or lamb cooked with ginger, onions & peppers
Medium
£7.95
Naga Chicken
Pieces of chicken or lamb cooked with very hot Bangladeshi naga chilli paste & special spices, highly flavoured
Very hot
£7.95
Naga Lamb
Pieces of chicken or lamb cooked with very hot Bangladeshi naga chilli paste & special spices, highly flavoured
Very hot
£7.95
Chicken Moducas
Cooked with yoghurt, almonds, coconut, cashew nuts, honey & mango
Mild
£8.25
Green Bangla Chicken
Chicken or lamb cooked with spinach & mint in a creamy sauce
Mild
£7.95
Green Bangla Lamb
Chicken or lamb cooked with spinach & mint in a creamy sauce
Mild
£7.95
Garlic Chilli Chicken
Chicken or lamb cooked with fresh garlic & chillies
Hot
£7.95
Garlic Chilli Lamb
Chicken or lamb cooked with fresh garlic & chillies
Hot
£7.95
Mixed Pilau Rice
Meat, chicken & prawn rice
£3.95
Egg Fried Rice
Egg & onions
£2.85
Lemon Rice
Fried with lemon rice
£2.50
Onion Fried Rice
Fried with onions
£2.50
Coconut Fried Rice
Fried with desiccated coconut
£2.85
Garlic Fried Rice
With onion & garlic
£2.25
Special Pilau Rice
Nuts & sultanas
£2.85
Mushroom Rice
Mushrooms & onions
£2.95
Prawn Pilau Rice
Aromatic rice with prawns
£3.95
Pilau Rice
Cooked with aromatic spices
£2.25
Chicken Tandoori Main
Spring chicken marinated in delicately herbed, medium spiced, Medium spiced, saffron aromated yoghurt sauce & skewered
Medium
£7.25
Chicken Tikka Main
Selected morsels of chicken marinated in herbed yoghurt along with crushed ginger & garlic
Medium
£6.95
Boti Kebab (Lamb)
Selected cuts of lamb marinated in herbed yoghurt along with crushed ginger & garlic
Medium
£6.95
Tandoori Mix Platter
A selection of tandoori chicken, king prawns & lamb tikka with seekh kebab barbecue, served with naan
Medium
£12.95
Tandoori King Prawn Main
Popular amongst Bay of Bengal dwellers, king prawns blanched & seasoned, then marinated in a special chilli sauce
£11.85
Chadni Chicken Tikka Main
Mildly spiced, chicken marinated in apple & herb sauce & lightly barbecued
Mild
£7.25
Chadni Tikka Chilli Main Chicken
Chicken OR lamb marinated in herbs & spices, cooked in a garlic & chilli sauce
Hot
£7.25
Chadni Tikka Chilli Main Lamb
Chicken OR lamb marinated in herbs & spices, cooked in a garlic & chilli sauce
Hot
£7.25
Shashlik Chicken
A choice of chicken OR lamb marinated with yoghurt & herbs, cooked with garlic, onions & green peppers
Medium
£8.50
Shashlik Lamb
A choice of chicken OR lamb marinated with yoghurt & herbs, cooked with garlic, onions & green peppers
Medium
£8.50
Garlic King Prawn Main
King prawns marinated in garlic & herbs then barbecued over charcoal
Medium
£11.85
Curry Chicken Tikka
Medium
£6.50
Madras Chicken
Fairly hot
£6.95
Madras Chicken Tikka
Fairly hot
£6.95
Madras Lamb Tikka
Fairly hot
£6.95
Madras King Prawn
Fairly hot
£8.95
Madras Vegetable
Fairly hot
£6.95
Vindaloo Chicken
Very hot
£6.95
Vindaloo Chicken Tikka
Very hot
£6.95
Vindaloo Lamb Tikka
Very hot
£6.95
Vindaloo King Prawn
Very hot
£8.95
Vindaloo Vegetable
Very hot
£6.95
Dansak Chicken
Cooked with lentils
Hot
£6.95
Dansak Lamb
Cooked with lentils
Hot
£6.95
Dansak Prawn
Cooked with lentils
Hot
£6.95
Dansak Chicken Tikka
Cooked with lentils
Hot
£6.95
Dansak Lamb Tikka
Cooked with lentils
Hot
£6.95
Dansak King Prawn
Cooked with lentils
Hot
£8.95
Dansak Vegetable
Cooked with lentils
Hot
£6.95
Ceylon Chicken
Cooked with lentils
Hot
£6.95
Ceylon Lamb
Cooked with lentils
Hot
£6.95
Ceylon Prawn
Cooked with lentils
Hot
£6.95
Ceylon Chicken Tikka
Cooked with lentils
Hot
£6.95
Ceylon Lamb Tikka
Cooked with lentils
Hot
£6.95
Ceylon King Prawn
Cooked with lentils
Hot
£8.95
Ceylon Vegetable
Cooked with lentils
Hot
£6.95
Patia Chicken
Cooked with onions
Hot
£6.95
Patia Lamb
Cooked with onions
Hot
£6.95
Patia Prawn
Cooked with onions
Hot
£6.95
Patia Chicken Tikka
Cooked with onions
Hot
£6.95
Patia Lamb Tikka
Cooked with onions
Hot
£6.95
Patia King Prawn
Cooked with onions
Hot
£8.95
Patia Vegetable
Cooked with onions
Hot
£6.95
Korma Chicken
Creamy
Mild
£6.95
Korma Chicken Tikka
Creamy
Mild
£6.95
Korma Lamb Tikka
Creamy
Mild
£6.95
Korma King Prawn
Creamy
Mild
£8.95
Korma Vegetable
Creamy
Mild
£6.95
Kashmir Chicken
Cooked with tropical fruit
Mild
£6.95
Kashmir Lamb
Cooked with tropical fruit
Mild
£6.95
Kashmir Prawn
Cooked with tropical fruit
Mild
£6.95
Kashmir Chicken Tikka
Cooked with tropical fruit
Mild
£6.95
Kashmir Lamb Tikka
Cooked with tropical fruit
Mild
£6.95
Kashmir King Prawn
Cooked with tropical fruit
Mild
£8.95
Kashmir Vegetable
Cooked with tropical fruit
Mild
£6.95
Bhuna Chicken
Cooked with onions
Medium
£6.95
Bhuna Lamb
Cooked with onions
Medium
£6.95
Bhuna Prawn
Cooked with onions
Medium
£6.95
Bhuna Chicken Tikka
Cooked with onions
Medium
£6.95
Bhuna Lamb Tikka
Cooked with onions
Medium
£6.95
Bhuna King Prawn
Cooked with onions
Medium
£8.95
Bhuna Vegetable
Cooked with onions
Medium
£6.95
Dupiaza Chicken
Cooked with cubes of onions
Medium
£6.95
Dupiaza Lamb
Cooked with cubes of onions
Medium
£6.95
Dupiaza Prawn
Cooked with cubes of onions
Medium
£6.95
Dupiaza Chicken Tikka
Cooked with cubes of onions
Medium
£6.95
Dupiaza Lamb Tikka
Cooked with cubes of onions
Medium
£6.95
Dupiaza King Prawn
Cooked with cubes of onions
Medium
£8.95
Dupiaza Vegetable
Cooked with cubes of onions
Medium
£6.95
Rogan Chicken
Cooked with lots of tomatoes
Medium
£6.95
Rogan Lamb
Cooked with lots of tomatoes
Medium
£6.95
Rogan Prawn
Cooked with lots of tomatoes
Medium
£6.95
Rogan Chicken Tikka
Cooked with lots of tomatoes
Medium
£6.95
Rogan Lamb Tikka
Cooked with lots of tomatoes
Medium
£6.95
Rogan King Prawn
Cooked with lots of tomatoes
Medium
£8.95
Rogan Vegetable
Cooked with lots of tomatoes
Medium
£6.95
Palak Chicken
Cooked with spinach
Medium
£6.95
Palak Lamb
Cooked with spinach
Medium
£6.95
Palak Prawn
Cooked with spinach
Medium
£6.95
Palak Chicken Tikka
Cooked with spinach
Medium
£6.95
Palak Lamb Tikka
Cooked with spinach
Medium
£6.95
Palak King Prawn
Cooked with spinach
Medium
£8.95
Palak Vegetable
Cooked with spinach
Medium
£6.95
Contact Us
Find Us
352a Pinhoe Road, Exeter, EX48AQ
We deliver to
EX1, EX2, EX3, EX4, EX5